Gerhard E. Winkler (Austria - exploring Australia))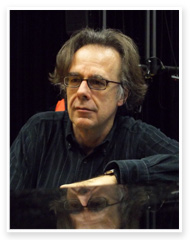 download sample
of full score download
programme notes

1959 born in Salzburg
1974 - 1980 Study of composition at Hochschule Mozarteum (Helmut Eder)
1979 - 1980 Study of Musicology, Philosophy and Psychology at Universities Salzburg and Vienna (Dissertation about Penderecki and Sound-composition in the 20th Century)
1993 Studies at IRCAM/Centre Pompidou, Paris.
Artist in residence at the Center for Arts and Media-Technologie, ZKM, Karlsruhe. at the  IRCAM/Centre Pompidou, Paris; 1999 Guest-Artist at the Music-Department of the UCSD, University of California, San Diego; several Collaborations with the Experimentalstudio of the SWR, Freiburg
Since 1999 freelanced composer.
Development of Real-Time-Score-pieces as well as interactive Computer-Environments for musicians. Integration of these experiences also in fixed written scores.
His works are commissioned by and performed at many important Festivals.