Thomas Wally (Austria - exploring Great Britain)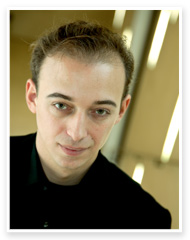 Born in 1981 in Vienna, Austria, Thomas Wally studied composition with Erich Urbanner and Chaya Czernowin and violin with Josef Hell at the University of Music and Performing Arts Vienna, graduating in 2008 with distinction (violin and composition). In 2005/2006 he spent an exchange year at the Sibelius-Akatemia Helsinki as a student of Paavo Heininen, where his violin teachers were Erkki Kantola and Päivyt Meller. He attended violin masterclasses with Hanna Weinmeister and Volkhard Steude (Concertmaster of the Vienna Philharmonic).

In Spring 2004, Thomas Wally won an internal composition competition for string quartet at the University of Music and Performing Arts Vienna with his "4 Bagatelles for String Quartet." In 2005 he was a finalist of the Jeunesses Musicales composition competition in Bucharest with his piece "Verästelungen" for 19 solo-strings. 2008, he won the 3rd prize in the international music+culture composition competition with his piano solo piece "impressions...en relief."

In 2009 Thomas Wally received the Austrian State Scholarship for Composition and won the Helmut Sohmen Composition Competition with his violin concerto "... und ein einziger Ton weinte in einem Frühling ..." . In 2010 he performed the piece as soloist with the Academy Symphony Orchestra in Hong Kong. In October, 2010 Mr. Wally received the Outstanding Artist Award from the Austrian Federal Ministry for Education, Arts and Culture. He was one of the main composers at the Wien Modern Festival 2010. 2011/2012 he is composer in residence of the Wiener Concert-Verein.

His music has been performed in Vienna (Wien Modern 2008 and 2010), Bregenz (Bregenzer Festspiele 2008), Innsbruck (Klangspuren 2009), Bratislava (Orfeus 2006), Berlin (Ultraschall Festival 2009), Cambridge, Moscow, Rome, Helsinki, Hong Kong and New York by ensembles such as Ensemble Reconsil, Ensemble Wiener Collage, Ensemble Kontrapunkte, ensemble LUX, Trio EIS, Nouvelle Cuisine Big Band, Studio for New Music Ensemble Moscow and Academy Symphony Orchestra Hong Kong.

As a violinist, Mr. Wally dedicates himself primarily to the performance of contemporary music. He plays on a regular basis with Ensemble Reconsil, Ensemble Wiener Collage, Phace ⎢contemporary music, ensemble LUX and Klangforum Wien. Since 2002, Mr. Wally is subsitute at the Vienna Philharmonic and had several contracts at the Vienna State Opera.