Simon Vosecek (Austria - exploring New Zealand)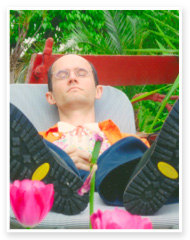 Born 1978 in Prague.

Studies of ballet and dance with I. Rákosníková, organ with I. Kosíková, composition with O. Kvěch at the conservatory of Prague and with D. Schermann, E. Urbanner and C. Czernowin at the music university of Vienna.

Šimon became 2007 the Viktor Bunzl Scholarship, 2011 he was awarded with the austrian State Grant for Composition. His opera Biedermann und die Brandstifter was 2008 awarded with the Upcoming Artist Prize of the austrian Ministery of Culture.

Member of diverse associations of composers.

His works has been performed in Austria, Czech Republic, Slovakia, USA, Mexico, Brazil; at the festivals like Wien Modern, Klangspuren Schwaz, Orfeo Bratislava.

Šimon tries to survive as a composer, beside that he sings chansons and organizes concerts with new music.

He lives in Vienna.