Tomasz Skweres (Austria - exploring USA)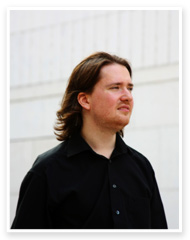 Tomasz Skweres (born 1984) is a Polish composer and cellist who has been living in Vienna since 1997. He studied composition with Detlev Müller-Siemens
and Chaya Czernowin as well as cello with Valentin Erben (the Alban Berg Quartet) and Stefan Kropfitsch at the University of Music and Performing Arts in Vienna

As a composer he is winner of the International Joseph Reinl Composition Competition, the competition for the commissioned pieces for the International Joseph Haydn Chamber Music Competition (twice: 2006 – the string quartet, 2008 – the piano trio) as well as of the Theodor Körner Prize. He is winner of the 2nd Prize of the International Composition Competition organized by the German Hypertension League. He is also a scholarship holder of the Thyll Dürr Foundation and the Czibulka Foundation and Austrian Ministry of Culture. His works were performed at the Festival Wien Modern, Biennale Bern, Festival Klangspuren, Festival Komponistenmarathon (Wiener Konzerthaus), at such places as Wiener Musikverein, Gasteig (Munich), Trafo Theater (Budapest), at the Guangzhou Xinghai Concert Hall (China), at Alte Schmiede (Vienna) and broadcasted by such radio stations as ORF/Ö1, Bayerischer Rundfunk, Radio Stephansdom, ABC Classic FM (Australia) and Frecuencia Universitaria (Mexico). Among the interpreters of his works one can mention the Altenberg Trio, the Apollon Musagète Quartet, the Platypus Ensemble and the Reconsil Ensemble Wien. The exclusive publisher of Skweres works is the Austrian Doblinger Musikverlag.

As a cellist he is a member of RSO Wien (Radio-Symphony-Orchester Vienna)and an active interpreter in the field of contemporary music. Tomasz Skweres won as cellist of Hibiki Quartet many prizes in international and national chamber music competitions (Gaetano Zinetti in Verona, Gradus ad Parnassum in Vienna, Residenzwettbewerb of the University of Music and Performing Arts in Vienna).