Dana Cristina Probst (Austria - exploring Great Britain)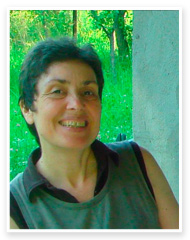 Dana Cristina Probst was born in Bucharest in 1961. She studied composition with Prof. Anatol Vieru, musical analysis with Prof. Stefan Niculescu, orchestration and composition with Prof. Aurel Stroe, and piano with Prof. Aurora Ienei at the National University of Music of Bucharest (1984 - Master's Degree).
An ÖAD-Scholarship from the Austrian Agency for International Cooperation in Education and Research enabled her, from 1993 to 1994, to study composition with Michael Jarrell at the University of Music and Performing Arts Vienna. Dana Probst has received various prizes including the 2nd Prize of the International Composition Contest "Aperto" – 1999.
From 1990 to 1996 she was Assistant Professor at the National University of Music Bucharest in the department of composition and music theory. Her works are regularly performed and broadcasted in Austria, Romania, Germany, Danemark, Great Britain, Italy. Dana Cristina Probst lives as a freelance composer and piano and music theory teacher in Vienna. She also initiates and leads various projects which generally involve composers from many European countries, e.g. "The sound Brancusi" – 2007, "sur le nom de Haydn – klavier solo 6+6" – 2009-2010, "Hel-Vie meno-paluu" – 2011.