Igor Maia (Brazil)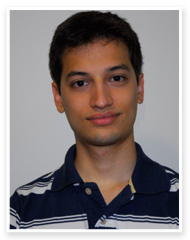 Born in Campinas, Brazil in 1988, Igor Maia received his Bachelor of Music Composition at the Royal Conservatoire of The Hague in 2010. He was a student of Martijn Padding, Gilius van Bergeijk, Cornelis de Bondt and Diderik Wagenaar.

He participated in Festivals and Masterclasses with composers Brian Ferneyhough, Francesco Filidei and Liza Lim at the Fondation Royaumont (France) in 2010 and Jukka Tiensuu and Jouni Kaipainen at Summer Sounds (Finland) in 2009.
He was awarded the BMI Student Composer Award (USA) for his work Transfigurations for Symphony Orchestra and the National Foundation of the Arts Prize in Music Composition (Brazil) for his String Trio both in 2010.

In 2011 he was selected to take part at the Takefu International Composition Workshop, in the frame of exchanges between the Fondation Royaumont and the Takefu International Music Festival.

Also in 2011 he will have works performed at the Festival Musica at Strasbourg (France) by Ensemble Linea, Festival Prismas at Buenos Aires (Argentina) by 4mil Saxophone Quartet, Campinas Contemporary Music Week by Campinas Symphony Orchestra (Brazil) and the Ensemble Reconsil (Austria) has commissioned him a work for their 2012-2013 season.

Currently he is an independent composer/researcher at the Interdisciplinary Nucleus for Sound Communication of the State University of Campinas (Brazil).