Dylan Lardelli (New Zealand)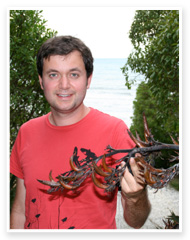 Born in Wellington New Zealand, Dylan holds a Bachelors degree in Guitar performance and a Masters degree in Composition from Victoria University Wellington. He has studied with Stefano Bellon in Venice and from 2009-210 held a
DAAD stipend to work with Dieter Mack at the Lübeck Musikhochshule in Germany.
Dylan has been the recipient of many scholarships and awards including the award of first place with his piece "Four Fragments" in the Asian Composers League Young Composers' Competition in Tokyo in 2003.

Among the musicians to commission and perform his works have been Yuji Takahashi, Mark Menzies, Lucas Vis, Cygnus Ensemble, New Zealand Symphony Orchestra and members of Ensemble Modern and Musik Fabrik.

His pieces have been programmed in the Gaudeamus music week held in Amsterdam and the Darmstadt New Music Festival.

He has participated in the Acanthes course with Peter Eotvos, the Darmstadt summer school with Beat Furrer, Helmut Lachenmann and Dieter Mack and the Royaumont course with Brian Ferneyhough.

In 2009 Dylan participated in the World Music Days festival in Beijing where his piece Musical Box was premiered for Taonga Puoro and ensemble.

As a Guitarist Dylan has performed with the New Zealand Symphony Orchestra, Stroma contemporary music ensemble, 175 East new music ensemble and also In Korea, Thailand and Germany. Dylan has recorded numerous New Zealand Compositions.