Oliver Knussen (Great Britain)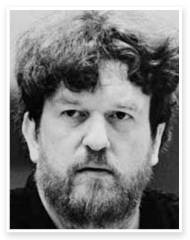 "No figure in British contemporary music is more respected than Oliver Knussen… every piece makes its point perfectly and shows Knussen's mastery of his musical language and influences." – The Guardian

Born in Glasgow on 12 June 1952, Knussen grew up near London, where his father was principal double bass of the London Symphony Orchestra for many years. It was with this orchestra that he made his debut in April 1968, conducting his First Symphony in London and in Carnegie Hall, New York. Knussen attended the Purcell School and studied composition initially with John Lambert. In 1970 he was awarded the first of three fellowships to Tanglewood, where he studied with Gunther Schuller, and for the next few years divided his time between England and the USA. During this time he completed several works which were subsequently widely performed on both sides of the Atlantic and established his early reputation, notably Hums and Songs of Winnie-the-Pooh (1970), Second Symphony (Margaret Grant Prize, Tanglewood 1971), Océan de Terre (1972-3), and Ophelia Dances (Koussevitzky centennial commission, 1975).

In 1975, Knussen returned permanently to the UK and the appearance of subsequent works, notably Coursing (1979) and his Third Symphony (1973-9) placed him in the forefront of contemporary British music. This latter work enjoyed a striking international success in the wake of its 1979 BBC Proms premiere under dedicatee Michael Tilson Thomas, and after nearly 100 performances is now regarded as a classic work of its period.

The 1980s were largely devoted to the operatic double-bill written in collaboration with Maurice Sendak and produced by Glyndebourne Festival Opera, Where the Wild Things Are (l979-83) and Higglety Pigglety Pop! (1984-5, revised 1999). Wild Things, since its London premiere in the National Theatre by Glyndebourne and the London Sinfonietta, has regularly received productions in many parts of Europe and the United States as well as numerous concert presentations, and has been commercially recorded for video and twice on CD.

From 1983 to 1998, Knussen was an Artistic Director of the Aldeburgh Festival, and between 1986 and 1993 he headed contemporary music activities at the Tanglewood Music Center. From 1990 to 1992, he held the Elise L. Stoeger Composer's Chair with the Chamber Music Society of Lincoln Center, and in 1992 (in collaboration with Colin Matthews) he established the Contemporary Composition and Performance courses at the Britten-Pears School in Snape.

During this period, Knussen also established his reputation as a conductor, initially through appearances with the London Sinfonietta and BBC Symphony, City of Birmingham Symphony, Philharmonia and Scottish Chamber orchestras. He has subsequently conducted in many parts of the world, including frequent visits to the USA with the Boston Symphony, Chicago Symphony and Cleveland orchestras; Los Angeles Philharmonic, Philadelphia Orchestra; and Atlanta and New World Symphony orchestras. In Canada he has conducted the Toronto Symphony and National Arts Centre orchestras, and in Holland he has worked with the Asko|Schoenberg Ensemble, Royal Concertgebouw Orchestra and Residentie Orkest. He also has conducted the Ensemble Modern, Berliner Philharmoniker, Gewandhausorchester Leipzig and Gürzenich- Orchester Köln in Germany; the Finnish Radio Symphony Orchestra and Avanti! in Finland; and has had numerous appearances in Japan at Music Today, Suntory Hall and Tokyo Opera City. As a conductor he has recorded more than thirty CDs of contemporary music, several of which have won international awards.

Several of Oliver Knussen's later works have quickly established themselves in the repertory: Flourish with Fireworks (1988), The Way to Castle Yonder (1988-90), Songs without Voices (1992), Two Organa (1994), the Horn Concerto (1994) and his Violin Concerto (2002). Recent and forthcoming works include Cleveland Pictures for orchestra (2003-), Ophelia's Last Dance for piano (2004-) and Requiem-Songs for Sue for soprano and chamber orchestra (2005-6).

After many years of close collaboration with the London Sinfonietta, Oliver Knussen became its Music Director in 1998, and in 2002 was made Conductor Laureate. In 2006, he was appointed both Artist-in-Association with BCMG and Associate Artist at Southbank Centre, London. He also curated the Stockhausen Memorial Festival "Klang" at the Centre in 2008, and in 2009 he was appointed Artist in Association with the BBC Symphony Orchestra, this three-year position consolidating his long relationship with them as composer and conductor. Among his many awards are Honorary Memberships of the American Academy of Arts and Letters and the Royal Philharmonic Society, an Honorary Doctorate from the Royal Scottish Academy of Music and Drama, the Association of British Orchestras Award, a British Composer Award 2007 for his Requiem-Songs for Sue and most recently he was recipient of the 2010 Royal Philharmonic Society Conductor Award. In 2006 he was named the second recipient of the Michael Ludwig Nemmers Prize from Northwestern University, USA. He became a CBE in the 1994 Birthday Honours.

Oliver Knussen lives in Suffolk.