Texu Kim (South Korea)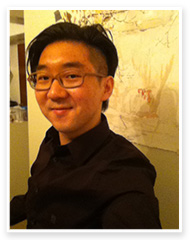 Texu Kim's works have been performed by Ensemble Modern (Commission, Germany 2012), Ensemble Intercontemporain (France 2012), Aspen Contemporary Ensemble (CO 2012), Ensemble Reconsil Vienna (Austria 2013), Indiana University Symphonic Choir (IN 2013), Contemporary Directions Ensemble (MI 2013), Seoul Philharmonic Orchestra (Commission, South Korea 2011), Ensemble TIMF (Commission, South Korea 2007/13), etc. His music has earned awards and honors from Minnesota Composer Institute (Selected Composer, MN 2012), the Aspen Music Festival and School (Fellowship Recipient, CO, 2012), Isang Yun International Composition Prize (Special Prize, South Korea 2009), Alexander Zemlinsky Prize for Composition (Semi-finalist, OH 2013), Joong-Ang Music Concours (First prize, South Korea 2006), Tongyeong International Music Festival Asian Composers Showcase (Selected Composer, South Korea 2013). His upcoming performances include those in ACDA Central Division Conference (OH 2014), Mizzou International Composers Festival by Alarm Will Sound (MO 2014), Ensemble Reconsil Exploring The World Festival (Commission, Austria 2015), GAMMA-UT Conference and Concert (TX 2014), and AGO Boston National Convention (MA 2014).

Along with his contemporary music, Mr. Kim's arrangement/orchestration works have been commissioned and performed widely, as in Insbrook Music Festival (MO 2013), in Piece & Piano Festival (South Korea 2012), by Ensemble Mode (IL 2012), by Chamber Music Society of Kumho Art Hall (South Korea 2011), to name some recent examples. His arrangements are featured on three albums of soprano Sumi Jo – "Libera (Deutsche Grammophon-labelled, 2011)", "Ich Liebe Dich (Decca-labelled, 2010)", and "Missing You (DG-labelled, 2009)". He has also participated as an arranger in albums of soprano Young-Ok Shin (2011 & 2012), Harpist Jung Kwak (2011), Daegum (Korean traditional wind instrument) player Jeong-Seung Kim (2011), violinists Suyoen Kim (DG, 2010), Chee-Yun (Decca, 2008), pianist Yeol-Eum Son (2008), to name a few. Additionally, he wrote more than 50 songs for toddlers, which were published by Bicycle Korea (2008).
Texu's principal teachers are Claude Baker, Sven-David Sandström, David Dzubay, Unsuk Chin, and Sangjick Jun. He is currently pursuing a doctorate in composition with minor in electronic music and music theory at the Indiana University Jacobs School of Music, where he serves as an Associate Instructor in music theory as well as the president of Student Composer Association. He holds a master's and a bachelor's degree in composition from Seoul National University, where he also earned a bachelor's degree in chemistry. In 1998 he was a silver medal winner at the International Chemistry Olympiad in Melbourne, Australia.

For more information on Texu Kim and his music, visit https://soundcloud.com/texu-kim.