Jin-Ah Ahn (South Korea)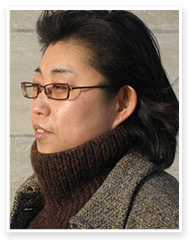 Jin-Ah Ahn graduated from Seoul Highschool of Music and Arts, Chung-Ang
University with B.A. and M.A. in Composition (with Insun Cho) and after studied at University of the arts Bremen with Younghi Pagh-Paan in Germany.

She received DAAD prize (2000) and has been invited several german government scholarship as "artist in residence Hoege, Schreyahn, Bayreuth, Lukas, Ahrenshoop, Eckernfoerde, Rheinsberg" (2001-2006).

In 2005 she received a BMW Musica Viva International Compositions Competition Prize with her orchester composition "YODONG", which was premiered with Bavarian Radio Symphony Orchestra and Berlin Composer Prize
in 2006.

Also she has received many commissions from numerous Ensembles, modern music festivals, cities and radio broadcasting. Her various works have been played in famous international festivals and concerts with soloists, ensembles, orchestra in Germany, France, Austria, Italy, Swiss, Japan and so on.

Currently she is a professor at Kyungmin University in Korea.