Dai Fujikura (Japan)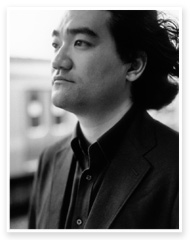 download sample
of full score download
programme notes
Dai Fujikura was born in Osaka and moved to the UK in the early 1990s where he completed his secondary education and went on to study with Edwin Roxburgh, Daryl Runswick and George Benjamin. During the last decade he has been the recipient of numerous prizes, including the Huddersfield Festival Young Composers Award and a Royal Philharmonic Society Award in this country, Internationaler Wiener Composition Prize, the Paul Hindemith Prize in Austria and Germany respectively and both the OTAKA and Akutagawa awards in 2009.
"Stream State" for orchestra (2005), the premiere of which was conducted by Pierre Boulez, was performed seven times in Switzerland, Germany, Austria, Italy and Japan in the subsequent twelve months. In 2005, "Vast Ocean" for trombone, orchestra and live electronics, was premiered by the Hilversum Radio Orchestra and Experimentalstudio Freiburg, in the Donaueschingen Music Days festival, conducted by Peter Eötvös. In 2009 "Phantom Splinter" for wind trio (MusikFabrik) and electronics was also commissioned and premiered there.
In 2006 Fujikura made his BBC Proms debut with "Crushing Twister" and the Chicago Symphony Orchestra presented the first of two feature programmes of his music in the Music Now series. Between 2007 and 2009 Fujikura had three major commissions in France – "Swarming Essence" for the Orchestre Philharmonique de Radio France and IRCAM, "prism spectra" for viola and electronics (also created in IRCAM) and "…as I am…" for Lore Lixenberg and Ensemble Intercontemporain. In 2009 Noriko Ogawa premiered a piano concerto, "AMPERE," which was a co-commission from the Philharmonia Orchestra and the Nagoya Philharmonic. During the same month as the world premiere of "flare", an international co-commission for the Arditti Quartet from the Wigmore Hall, Edinburgh Festival and the Ishibashi Memorial Hall, Gustavo Dudamel conducted the world premiere of "Tocar y Luchar" for the Simon Bolivár Youth Orchestra in Caracas, Venezuela and "Reach Out" for saxophone quartet received its Japanese premiere.
Future projects include a bassoon concerto for Pascal Gallois, a new work for the Munich Chamber Orchestra, Fujikura's first opera (directed by Saburo Teshigawara), and collaboration projects with David Sylvian. Also preparing two portrait CDs from NMC label and Samadhisound label.