Hannes Dufek (Austria - exploring Argentina)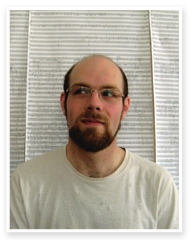 download sample
of full score download
programme notes

Hannes Dufekwas born in 1984 in Vienna. From early age on, he showed tremendous interest in music and everything connected with the subject. He enjoyed private tuition in playing the piano as well as the recorder and the guitar; later on, basic counterpoint and harmony studies were added. After finishing school in 2003, he decided to take on the professional career as a musician and after a short intermission of philosophical studies at the University of Vienna, he started to study composition and musical theory with Chaya Czernowin and Michael Obst at the University of Music and Performing Arts of his hometown. In the year 2006, he co-founded "Platypus - Verein für neue Musik", an association concerned especially with the music of young composers. Hannes Dufek became chairman of the group, a position he holds ever since. With Platypus, Hannes Dufek planned, coordinated and realized many different projects, including concerts, festivals, exchange projects and various other activities, world-premiering so far over 150 pieces by young composers. In the year 2009, the ever-increasing activity of Platypus culminated in the creation of the ensemble Platypus.
Hannes Dufek was awarded the first prize in the composition competition of the MusikTriennale Köln 2010 for his piece "landschaft_ ___interpretation (...)" and received a START-grant from the Austrian federal Ministry of Education, Arts and Culture (BmUKK) in 2010. Furthermore, he was selected for the promotional program "MICA Young Austrian Composers" and received two commissions in 2011 ("Momo", an opera/musical theatre for children after the book by Michael Ende, and a new piece for 8-part choir, both to be premiered in autumn 2011). His pieces are being performed in many countries around the world, including Brasil, Mexico, Germany, the Czech Republic, Argentina, Great Britain, and Austria. Currently, he is living in Vienna.