Barry Conyngham (Australia)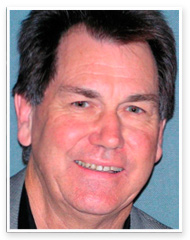 Barry Conyngham was born in Sydney Australia.
He studied with Peter Sculthorpe in Australia and with Toru Takemitsu in Japan.

He has received numerous awards, prizes and grants for composition, including Churchill (1970), Harkness (1972-74), Australia Council (1974-5), and Senior Fulbright (1982) Fellowships. He has an ARIA, two Sounds Australian Critics Awards and two Maggs Awards.

In 1997 his contribution to his country was recognised when he became a Member of the Order of Australia.

Conyngham has 50 compositions under contract (to 1993) with Universal Edition (London, Vienna), and more than 25 available through Hal Leonard (Melbourne). There are over 30 recordings featuring his compositions (most notably a complete CD by the London Symphony Orchestra and, more recently, the recording by the New Zealand Symphony Orchestra of PASSING, his work of dedication to Takemitsu).

The last few years have seen a number premieres including VEILS 2 in Oslo in 2003 and DREAMS GO WANDERING STILL for orchestra, at the 2004 Adelaide Festival. The Sydney Symphony Orchestra premiered his large work for Baritone and Orchestra, FIX, at the Sydney Opera House Concert Hall in August 2004 and the Melbourne Symphony gave the first performance of NOW THAT DARKNESS in May 2005. 2006 saw the premieres of CATHEDRAL in Edinburgh, TO THE EDGE, a work for the Pro Arte chamber orchestra in Melbourne. The chamber opera ELECTRIC LENIN commissioned by Lyndon Terracini, premiered in 2007. CALA TUENT for orchestra and ethic instruments was premiered in Palma (Spain), Brisbane (Australia) and Hong Kong in October and November of 2008. His concerto for double bass and orchestra, ABOUT K.I. received its first performances in Boston (electronic version) and Pennsylvania (orchestral version) in April 2009.

Compositional Themes

Conyngham has pursued a number of themes or images in his music. Most predominantly music about being Australian. His first published work, CRISIS: THOUGHTS IN A CITY (for orchestra UE1968) contrasts the calm thoughts of an individual with the sounds and excitement of a city. VOSS (1972-unpublished) and FROM VOSS (UE1973) are musical reflections on the novel of Australian author Patrick White. Many subsequent works are studies of individuals in an Australian landscape or context – see for example the orchestral works MIRAGES (UE1978), VAST (UE1987), DAWNING (1996), and the concertos SOUTHERN CROSS for Violin & Piano (UE1981), WATERWAYS for Viola (UE1990), MONUMENTS for piano & synthesiser (UE1990), CLOUDLINES for Harp (UE1991), and ABOUT K.I. for Double Bass(2009). His theatre and vocal works also reflect this interest in the Australian personality: EDWARD JOHN EYRE (UE1971-73), BONY ANDERSON (1978), FLY (UE1984), ANTIPODES (UE1985), BENNELONG (1988), FIX (2001-2004) and ELECTRIC LENIN (2006).

Another sources of inspiration for pieces is music about things Japanese. Example are: ICE CARVING for amplified Solo Violin & strings (UE1970), SHADOWS OF NOH for Double Bass (UE1979), BASHO for Soprano & Ensemble (UE1980), and AFTERIMAGES for Koto Percussion & Small Orchestra (UE1993). More recently the Japanese theme is linked to pieces celebrating friends and the passing of time, such as the orchestral works PASSING (1999) for Toru Takemitsu , DREAMS GO WANDERING STILL (2004) for Peter Sculthorpe, NOW THAT DARKNESS (2005) both based on Japanese Haikus, and the soon-to-be GARDNER OF TIME (2010) for Hiroyuki Iwaki.

Obvious from the above, and reinforced by an examination of Conyngham's entire output, is the large number of works focusing on particular instruments often written with specific outstanding practitioners in mind: Bertram Turetzky, Jane Manning, Lyndon Terracini, Roger Woodward, Wanda Wilkomirska,Florian Kitt, Alice Giles, Tamas Ungar, Satsuki Odamura, Teddy Tahou-Rhodes, Ananda Sukarlan, and Robert Nairn.

Three conductors have also played a major role in premiering his orchestral and theatre works: John Hopkins (ICE CARVING (1970), WATER...FOOTSTEPS...TIME...(1970)m HORIZONS (1980), FLY (1984), & VAST (1988) CLOUDLINES (1990)) Geoffrey Simon (ICECARVING (1970), MIRAGES (1978), MONUMENTS (1990), DAWNING (1996) CALA TUENT (2008)) Hiroyuki Iwaki (SOUTHERN CROSS (1981), ANTIPODES(1984), BUNDANON (1994) & PASSING(1999)).