Kati Agócs (Canada)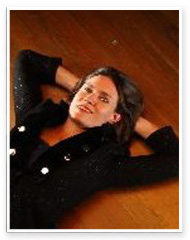 download sample
of full score download
programme notes
Composer Kati Agócs was born 1975 in Windsor, Canada, of Hungarian and American background, and has been on the composition faculty of the New England Conservatory in Boston since 2008. Bridging the gap between lapidary rigor and sensuous lyricism, her music is performed all over the world by leading musicians and ensembles. The Boston Globe recently described it as "moving and taut" and "music of fluidity and austere beauty," while Boston's The Hub Review described her orchestral music as "gorgeous". The New York Times has characterized it as "striking" and "filled with attractive ideas" and has described her vocal music as possessing "an almost 19th-century naturalness." Fanfare magazine recently described her violin-piano duet Supernatural Love as "serene and unworldly, exploring space with sound in a way that seems to evoke the time before the universe hosted life." A citation from the American Academy of Arts and Letters for the Charles Ives Fellowship in 2008 praised the "melody, drama, and clear design" of her music, its "soulful directness", and its "naturalness of dissonance."

Recent commissions include Vessel at Symphony Space in New York, Shenanigan for the Hamilton Philharmonic Orchestra (Hamilton, Ontario), a new work with amplified solo cello and recorded sound for Ensemble de Flûtes Alizé (Montréal), Perpetual Summer for the National Youth Orchestra of Canada's 50th Anniversary, Elysium for the National Arts Centre's Cultural Olympiad (Vancouver), Requiem Fragments for the CBC Radio Orchestra (Vancouver), I and Thou for the Chamber Ensemble of the Orchestra of St. Luke's (New York), ...like treasure hidden in a field for the American Composers Orchestra (New York), By the Streams of Babylon for the Albany Symphony, Immutable Dreams for the Da Capo Chamber Players (New York), Division of Heaven and Earth for pianist Fredrik Ullén (Stockholm, Sweden), Supernatural Love for Duo Concertante (St. John's, Newfoundand), As Biddeth Thy Tongue for saxophonist Timothy McAllister, and new works for the Autumn Festival in Budapest, Hungary, PRISM Saxophone Quartet, and the Juilliard School (for its annual Irene Diamond Concert). Agócs has been Composer-in Residence with the National Youth Orchestra of Canada (50th Anniversary Season in 2010) and with the Spartanburg Philharmonic Orchestra, through the 'Music Alive: New Partnerships' program of Meet the Composer and the League of American Orchestras. Perpetual Summer was awarded Special Distinction in ASCAP's Rudolph Nissim Prize for 2011, one of only three works selected by a jury of conductors out of over 260 anonymously-submitted new orchestral scores. Last season the Grammy-winning chamber ensemble Eighth Blackbird toured nationally with her quintet Immutable Dreams. The work has been programmed by over eight different ensembles since its premiere in 2007.

Awards include an inaugural 2009 Brother Thomas Fellowship from the Boston Foundation, a 2008 Charles Ives Fellowship from the American Academy of Arts and Letters, ASCAP Leonard Bernstein Fellowship at the Tanglewood Music Center, multiple grants from the Canada Council for the Arts, a Fulbright Fellowship to the Franz Liszt Academy in Budapest, Jacob K. Javits Fellowship from the U.S. Department of Education, a New York Foundation for the Arts Composition fellowship, a Jerome Foundation commission, Presser Foundation Award, and honors from ASCAP in their Morton Gould Young Composer Awards. Fellowships and residencies include the Great Lakes Chamber Music Festival, Norfolk Chamber Music Festival (Yale Summer School of Music), Aspen Music Festival, MacDowell Colony, Yaddo, Dartington International Music Festival (U.K.), and Virginia Arts Festival. On two occasions while attending Juilliard, Kati Agócs had her orchestral works premiered by the Juilliard Symphony in Alice Tully Hall as a winner of the annual composer's competition. In 2004, she spearheaded a groundbreaking exchange program between Juilliard and the Liszt Academy in Budapest that still continues today. She has written on recent American and Hungarian music for Tempo and The Musical Times.

Kati Agócs earned the Doctor of Musical Arts and Masters degrees from The Juilliard School, where her principal teacher was Milton Babbitt. She is also an alumna of the Aspen Music School, Tanglewood Music Festival, Lester B. Pearson College of the Pacific (one of the United World Colleges), and Sarah Lawrence College, all of which she attended on full scholarship. From 2006 through 2008 she taught at the School of Music, Memorial University of Newfoundland. She is on the composition faculty of The New England Conservatory of Music in Boston, and maintains a work studio in the village of Flatrock, near St. John's, Newfoundland, Canada.